Dali Travel Guide
Dali Old Town (where Climb Dali is based) is already a popular destination for both Chinese and Western travelers. It is located in the heart of Yunnan Province, historically one of the most remote provinces in China. It borders the neighboring provinces of Sichuan and Tibet in the north, and Guizhou and GuangXi in the east. West is Myanmar/Burma, while Laos and Vietnam border Yunnan to the South. Dali is about 350KM west of Kunming (the provincial capital) and 150KM south of LiJiang; these are the two most popular transit points for travel to and from Dali.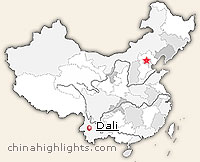 Upon arriving in the old town, your initial reaction might be one of surprise or disgust, especially if you land near FuXing Lu, the main commercial strip in Dali. Don't despair! Walk a few hundred meters in any direction, and you will find people going about their lives as normal, oblivious to the tourists. Walk one kilometer, and you will have left the old town behind completely, with small villages and pristine countryside waiting to be explored.
Dali (as well as Yunnan Province in its entirety) is quickly turning into a world class destination for adventure tourism and the outdoors. To the east is Erhai Lake, which is one of the largest freshwater lakes in China, and offers opportunities for kayaking and swimming. To the west is the CangShan Mountain Range, with a dozen peaks over 4000 meters (a few of them reachable on foot). There are a few trails that you can hike on your own, and a dozen others that you can follow with the assistance of a guide. There are paved roads and dirt roads, with growing potential for mountain biking, as well as a 120KM circuit around ErHai Lake, which passes through quaint fishing villages and takes in all of the local sights along the way. And did we mention the rock climbing...
Getting to Dali
A bus from Kunming (departing from multiple bus stations) takes about five hours depending on traffic and costs between ¥87 and ¥130, depending on the quality of the bus, and will bring you to Dali new town (Xiaguan). Overnight buses exist, but are an uncomfortable and less safe option, especially compared to the overnight
train. Buses from Lijiang cost about ¥50 and usually stop outside the old town, on the way to XiaGuan. There is now also a train connecting LiJiang and Dali, which is shorter and faster than the bus.
There are several night trains from Kunming to Dali Train Station (in Xiaguan) leaving between 8PM and 11PM, and arriving six to eight hours later. The cost is ¥86 for a night train sleeper bunk. There is also a day train that costs ¥40 for a hard seat, but it's slow and unreliable, sometimes taking more than 12 hours to cover the short distance from Kunming to Dali. Construction is already underway on a high speed train line connecting Dali and Kunming, expected to open sometime in 2011.
From New Dali, your best bet is to take advantage of one of the local bus services that run to Old Dali. You can board the No.8 bus (¥1.5 & 40 minutes) directly at the train station or on Tai'An Lu, about five minutes walk from the bus station. The bus terminates at the West Gate, but you can get off at any of the preceding stops. The East Gate stop is closest to the offices of Climb Dali. You can also take the No. 4 bus for the same price, or a taxi for ¥35.
Dali also has an airport located to the East of Xiaguan. Flights from Kunming operate regularly - 3 times a day. It is possible to get heavily discounted tickets (¥300 return Dali-Kunming), but you will need to book well ahead. Otherwise expect to pay ¥320+ each way. From major Chinese cities (Beijing, Shanghai, Guangzhou), it is possible to book a direct flight to Dali (with a stopover in Kunming) at discounted rates. Check Qunar.com, Elong.com or Ctrip.com for the best deals. or
More Information
For information on where to stay, what to eat, what to do, where to go, the Wikipedia Travel entry on Dali is a great source. Otherwise, feel free to contact us using any of the methods listed to the left, and we will do our best to promptly answer all of your questions!